Overview¶
The Sketchfab exporter for 3ds Max enables you to publish your 3d models straight from 3ds Max to Sketchfab with one click. Models are exported and uploaded to your Sketchfab account. An important feature is the ability to lightbake your model, while publishing it.
Just select the objects you want to publish, enable the automatic lightbaking and press "Publish". It's that easy! This script works in 3ds Max 2016 and up with scanline, mentalray, vray and corona.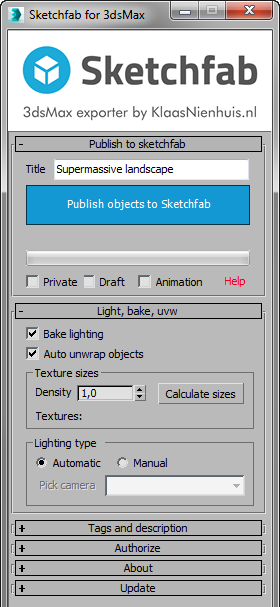 An overview of the main functions of the script
Publishing a model¶
To publish a model, you need to enter a title, select some objects and press the "Publish" button. The plugin will take care of the rest.
Please note that the fileformat used for the export is fbx. If something's not supported by this format, this publisher can't send it to sketchfab.

Basic workflow to publish a model

Open the published model on Sketchfab
Draft mode¶
You can publish your model in Draft mode. If your model is in Draft mode you can't share it and others can't view it. This gives you the opportunity to modify the shaders and lighting before sharing and embedding your model. There's more info on the general publishing procedure including Draft mode on the Sketchfab site

It's clearly indicated if a model in in Draft mode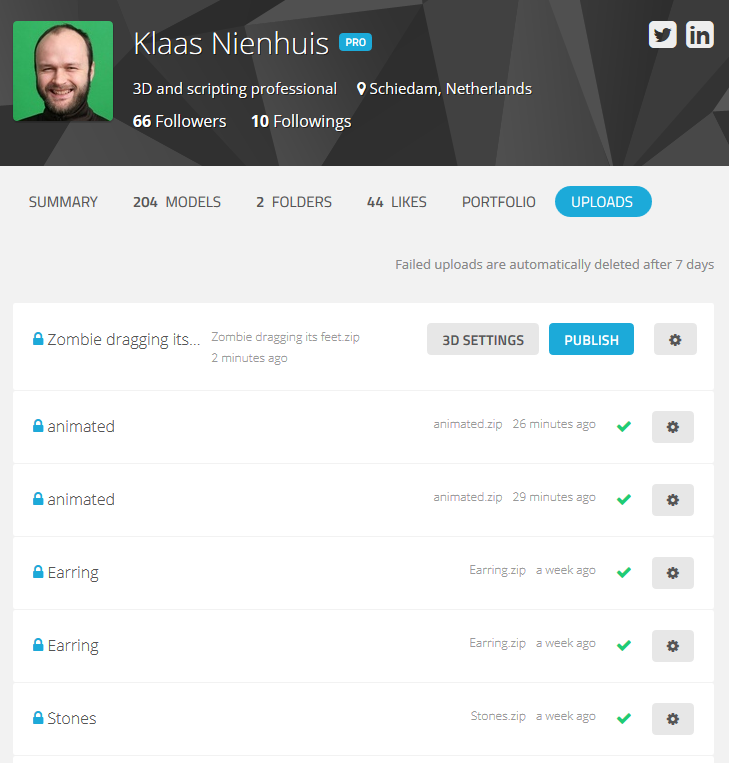 The Uploads tab gives a good overview of your models and also shows which ones are still in Draft mode
Animation¶
You can publish your animations too if you activate the Animate option. The active framerange is exported.