Lightbaking¶
The script can publish to Sketchfab with or without lightbaking. You can enable or disable lightbaking in the Light, bake, uvw rollout. If you disable the Bake lighting option, all other bake options will be disabled. If you enable lightbaking, other options become available.
The script handles a few tasks for you, besides the lightbaking. It can unwrap the model, determine how big the lightbaked textures should be and set up lighting.
Scanline, Mental Ray, Corona and V-Ray (also Vray Next) are supported for lightbaking. The script uses the rendersettings of the current scene. You can make the baked textures as smooth or as grainy as you like by adjusting the rendersettings yourself.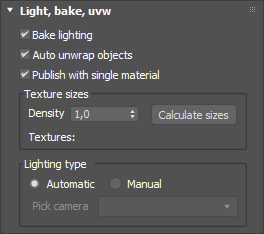 The lighting options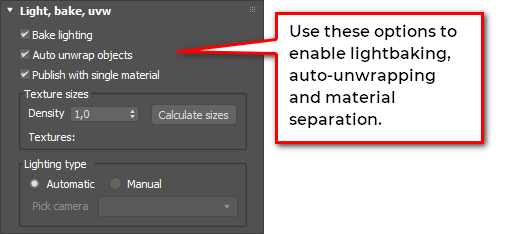 Switching the bake on or off